Linstead

Male

•

Kitten

•

Domestic Short Hair

•

Medium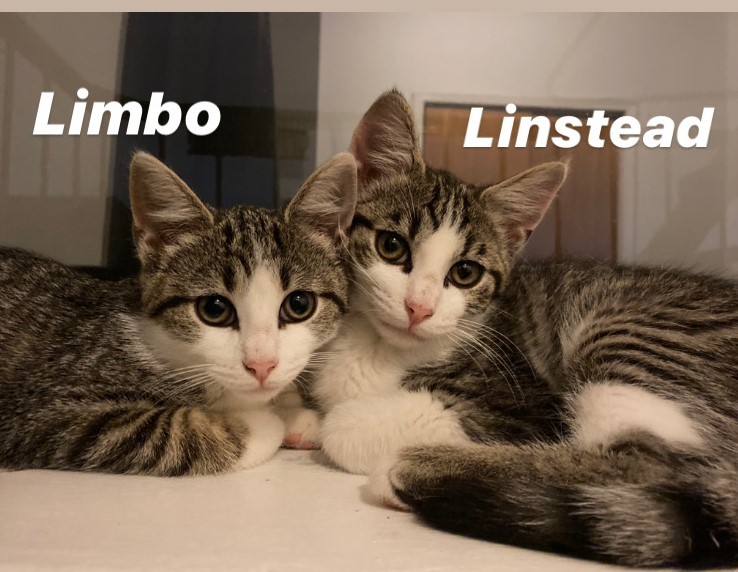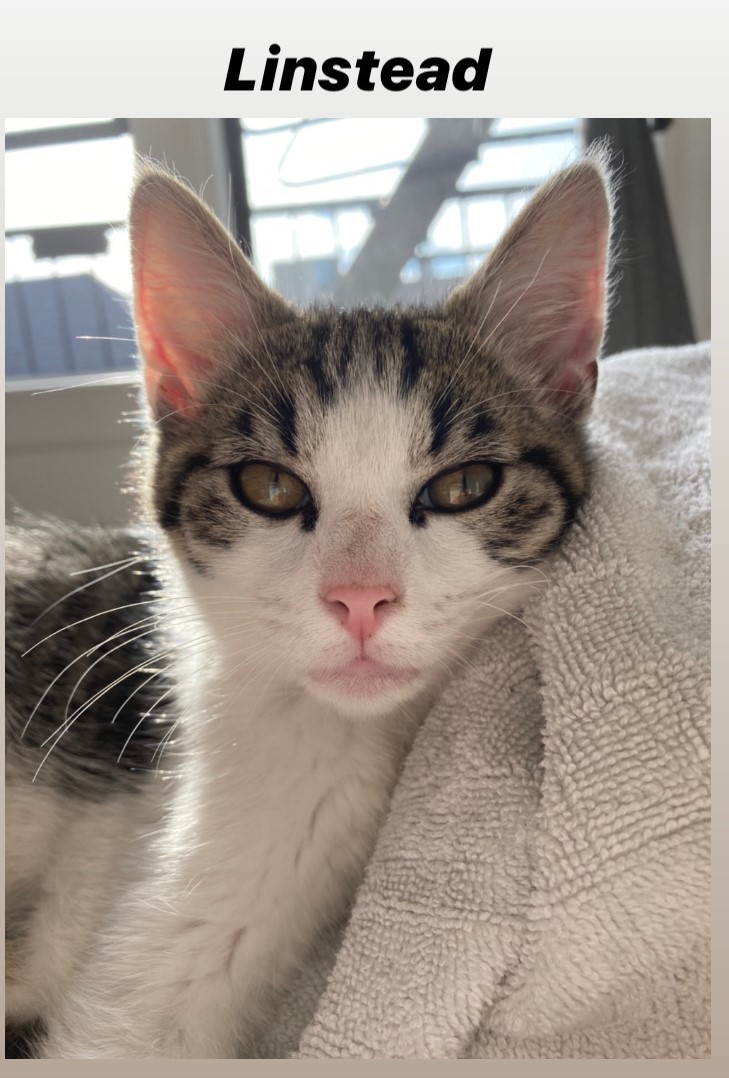 Linstead's Story
Limbo and Linstead are 4 months old and have opposite personalities. Limbo (female) is shy at first but loves pets and scratches behind the ear/under her chin and can be very affectionate once she warms up to you. She gets a bit nervous when people approach her too quickly and isn't a huge fan of being carried, although she is definitely warming up to it, but the minute you start to pet her she'll stick with you for hours and will usually fall asleep with a paw on your leg. She's extremely playful with her brother Linstead and her favorite toy is her stuffed mouse! She loves chicken flavored treats and will usually approach you when she hears you start to open the treat bag. She loves hiding in quiet dark areas but also enjoys sitting on the windowsill and looking outside. She's also very vocal and will meow if she wants attention! She can be extremely playful and will play with her brother for hours but she also likes taking long naps with her brother Linstead throughout the day. She's extremely sweet and anyone would be lucky to have her!
Like Limbo, Linstead (male) loves pets and scratches behind the ear but it doesn't take him as long to warm up to people! He loves to play and will run around and play with his sister Limbo for hours! He's adventurous and curious and will watch from a distance while you're working or cooking. Linstead is very loving and loves to cuddle and will probably sneak onto your bed while your not looking to sleep by your feet at night. He can be extremely playful and loves playing with his favorite mini stuffed mouse but is usually calm throughout the day and loves taking naps with his sister Limbo. He doesn't mind being picked up and is usually extremely relaxed when being handled. Like his sister, he can be very vocal and will meow when he's hungry or wants attention. He would make a great fit in any family!
Kittens are $150 each and a pair of kittens are $200.
This animal is currently being fostered in New Jersey and may require that potential adopters go there in order to do a meet and greet or adopt.
Cats are very social by nature and need to be with other cats for their socialization. Kittens are only adopted in pairs or to homes with other cats. Most adults cats need a friend also. Ones that can be adopted alone, are noted.
Not quite ready to adopt? Help Linstead find his forever home by sharing his story!
Adoption Process
All of our cats come spayed or neutered, up to date on vaccines, dewormed, FIV/FeLV tested, microchipped, up to date on flea and tick preventative, and treated for any ailments found upon veterinary examination. The adoption fee covers a portion of these services, and makes it possible for us to continue rescuing animals.
For more information on the adoption fees and the adoption process, please complete our adoption application - an application allows us to get to know your family better so we can assess whether the animal you are interested in is a good match for your home.
An application does not obligate you to adopt, and can be transferred to any pet. Please understand that due to the volume of applications some animals receive, we are unable to contact all applicants. If your application is considered a good fit for the pet you are interested in, or even a different pet, a volunteer will give you a call within 7-10 days. If you would like to transfer your application to a different pet, please submit an adoption application transfer request. You will need the application number and email address from your original application.
We are a foster-based rescue and do not have a shelter location where pets can be seen during the week. Please see our Facebook page for our weekly adoption album if you are interested in meeting a pet in person. Not all animals attend every adoption event, please check our Facebook page for animal event times and locations before you make a trip to meet a specific animal.
Thanks so much for caring about a needy animal!