Diego

Male

•

Adult

•

Chihuahua

•

Small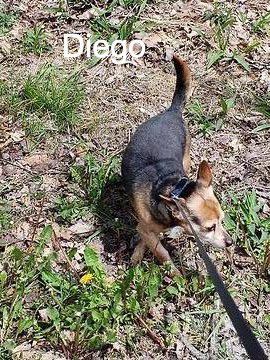 Diego's Story
Meet Diego! An adorable 7 year old 10 lb Chihuahua Mix. Diego is a really good boy. He's a bit stubborn at times but he loves to cuddle and to wrap himself in a blanket. He tends to be particular. He loves going outside and would thrive in a house with a garden. Diego loves going outside to sniff leaves and walk in the grass. He likes going for walks but he would just spend the whole day outside sniffing and observing other people and dogs if he could. He is in his personal heaven when he's outside. He isn't a couch potato but he doesn't play inside. He just walks around and goes from one basket to another (yes, we got him two baskets) he does his business outside and seems to be telling us when it's time to go outside. He is so easy to take care of although he's fussy about his food. He's 7 after all he's entitled to be picky. Diego likes to be the top attraction so he would do best in a home without other dogs.
Adoption Fee $500
This animal is currently being fostered in Manhattan and may require that potential adopters go there in order to do a meet and greet or adopt.
Not quite ready to adopt? Help Diego find his forever home by sharing his story!
Adoption Process
All of our dogs come spayed or neutered, up to date on vaccinations, including rabies (if age appropriate) and bordetella, are microchipped, heartworm negative, current on flea/tick and heartworm prevention, dewormed, and treated for any ailments found upon veterinary examination. The adoption fee covers a portion of these services, and makes it possible for us to continue rescuing animals. Please note that our pets come from shelters, so we CANNOT guarantee age, breed, mix of breeds, or adult size.
For more information on the adoption fees and the adoption process, please complete our adoption application - an application allows us to get to know your family better so we can assess whether the animal you are interested in is a good match for your home.
An application does not obligate you to adopt, and can be transferred to any pet. Please understand that due to the volume of applications some animals receive, we are unable to contact all applicants. If your application is considered a good fit for the pet you are interested in, or even a different pet, a volunteer will give you a call within 7-10 days. If you would like to transfer your application to a different pet, please submit an adoption application transfer request. You will need the application number and email address from your original application.
We are a foster-based rescue and do not have a shelter location where pets can be seen during the week. Please see our Facebook page for our weekly adoption album if you are interested in meeting a pet in person. Not all animals attend every adoption event, please check our Facebook page for animal event times and locations before you make a trip to meet a specific animal.
Thanks so much for caring about a needy animal!